May 31, 2020
May 30, 2020
May 26, 2020
May 24, 2020
May 19, 2020
May 14, 2020
May 13, 2020
May 12, 2020
May 11, 2020
May 8, 2020
May 7, 2020
May 6, 2020
May 5, 2020
May 4, 2020
May 1, 2020
April 30, 2020
April 28, 2020
April 27, 2020
April 24, 2020
April 22, 2020
April 21, 2020
April 20, 2020
April 17, 2020
April 16, 2020
April 15, 2020
April 14, 2020
April 13, 2020
April 10, 2020
April 9, 2020
April 8, 2020
April 7, 2020
April 6, 2020
April 3, 2020
April 2, 2020
April 1, 2020
March 31, 2020
March 30, 2020
March 28, 2020
March 27, 2020
March 26, 2020
March 25, 2020
March 24, 2020
March 23, 2020
March 19, 2020
COVID-19 overview video
March 18, 2020
In keeping with government guidelines, Hope Church will cancel or re-format all in-person church gatherings through March and April.
Please update your calendars from the list and stay tuned for further updates.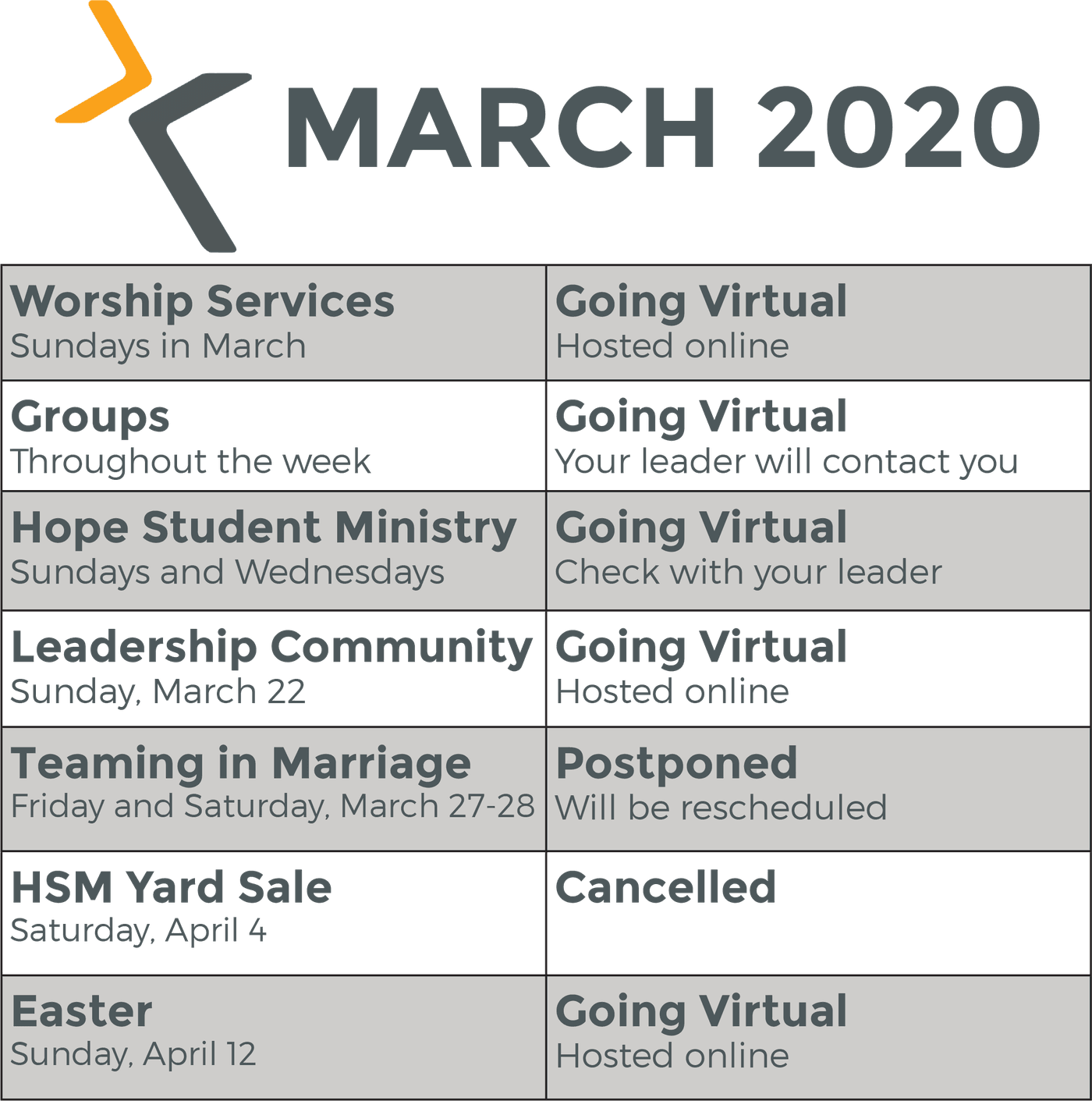 March 16, 2020
We want to update you on our understanding of the Coronavirus situation and what we are doing at Hope Church during this time. Our understanding, based on data and reports from reputable sources (i.e. CDC, DSHS, etc., see links below), is that we as a nation are in a serious situation and must do everything possible to stop the spread of the virus.
Sunday night (3/15), the CDC (Centers for Disease Control and Prevention), announced:
"…in accordance with its guidance for large events and mass gatherings, recommends that for the next 8 weeks, organizers (whether groups or individuals) cancel or postpone in-person events that consist of 50 people or more throughout the United States."
Monday afternoon (3/16), President Trump urged Americans to avoid social gatherings in groups of 10 people or more to slow the spread of coronavirus in the U.S.
As a church, we want to do our part to help stop the spread of the virus and we want to ask you to join us. To help protect our people, we are going to abide by the recommendation of CDC. So, we are extending the date we will not meet in person for large and small group gatherings, from the end of the month (as Pastor Harold announced on Thursday), to May 3rd, which is the 8-week window recommended by officials.
We are in the midst of an unprecedented time, so we are taking unprecedented steps to do our part to fight the spread of the virus. We realize that within this 8-week window, we will not physically be meeting for the following events on the church calendar:
Marriage Seminar – Postponed to the fall
Easter Sunday – Online celebration
Pastor Harold's Celebration Services – Possible online celebration, but unsure
The rest of the semester of Hope Groups – groups will be finishing online rather than in person
The Hope staff is currently working together on ways to enhance our sense of community through our online platforms. Initially, we have a multi-step strategy which includes the following:
Email Communication
Emails from the staff to keep you updated on the situation and how you can be involved
If you know of needs, please email care@hopechurch.com to update us.
Facebook Groups
We will launch a FB Group for Members of Hope Church to join and communicate with each other for updates and encouragement.
Many of our Hope Groups will launch their own FB Group so group members can continue with a sense of online community.
Online Meeting Platforms (i.e. Google Hangout, Skype, etc.)
We are continuing some of our meetings online and experimenting with the best platform to use based on the meeting type and goal.
The situation seems to be changing quickly, so as we have more information available, we will know better how to respond and continue to communicate with you.
We deeply appreciate your commitment to Jesus Christ and your involvement and support of Hope Church during a strange time. Please join us in prayer for protection from the spread of the virus, for the Lord's mercy on people who are sick and for people to come to know Jesus during this time of stress.
Helpful Links for Updates on Coronavirus